When the Big Voice launched in 2016, our goal was to reach out to veterans in the local community and connect them to a larger network of other veterans and the resources that were available to them. In just a little more than two years, the support of our community has made that vision a reality. On November 10th, 2018, Backyard BBQ in Kettle Falls hosted a veterans day celebration to honor local vets, feeding them a free dinner provided by the restaurant and several big supporters.
The turnout was tremendous Backyard BBQ fed more than 150 veterans a free dinner, and the outpouring of care for our vets was staggering. In addition to the free dinner, there was a fundraising concert to help cover the costs of the American Freedom Fund Patriots Shooting Team, an all veteran and active duty competitive shooting team that travels in the northwest to engage in shooting events. Two local artists, Dylan Yeager (a Marine Corps vet himself) played a set and then Chipped and Broken performed. As the veteran audience trickled in, local friends and family gathered around to thank them for their service and hear their stories. The final band for the night, Brewers Grade, played a country set that got everybody on the dance floor, as vets from all generations and their friends and family mingled and celebrated.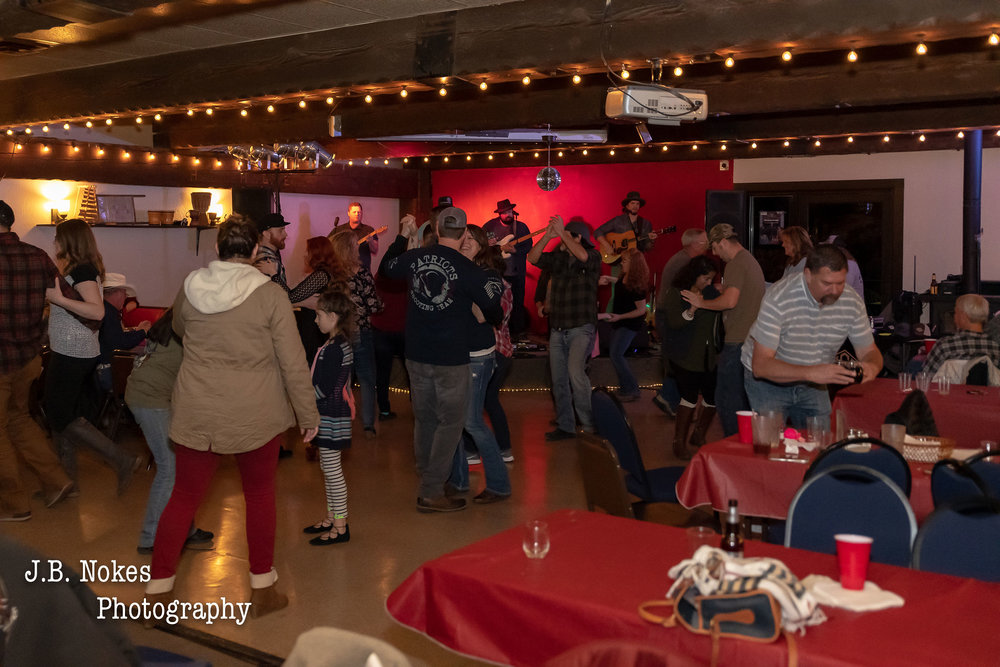 Several vets from different military service branches and generations approached members of the Big Voice and the Patriots Shooting Team to talk about the program and what was being done to help our vets. Watching the network of veterans expand that night was exactly why the Big Voice started. Two local vets asked to join the shooting team, and many veterans donated out of their own pockets to support the guys that are competing.
In addition to the dinner and concert, Silas Rappe, Regional Mobility and Veterans Services Coordinator for Tri County Economic Development District was on hand with Judy Lockner and Valerie Lamont, two local quilters who have donated several quilts to local vets, to draw a raffle winner for the newest veteran quilt. The winner, Duane Fryer entered the drawing when the beautiful red, white and blue quilt was on display at Dodson's Paint and Glass in Colville before the event.
The Big Voice and Backyard BBQ would like to extend our heartfelt thanks to the community for their support, specifically, Country Chevrolet, Keith & Shannon Miller, Eric & Kelly Weatherman, Chip & Emily Johnson, Joel Adrian with Sysco, Riverview Orchard, Westerguard, New Tech in Kettle Falls, HANK FM, American Legion Post 146, Jim Langevin, Dylan Yeager, J.B. Nokes Photography, Colville Printing, Debbie Becker at the Mustang Grill in Northport, Clark's All Sports, as well as several anonymous supporters and so many more who donated and helped out to make the event a success.
As the Big Voice grows, more and more vets are reaching out to us with their stories to share. Some who have never found a place to talk about their wartime experiences. We look forward to sharing these stories with you and helping to build a support network for all of those who served for us.
The AFF Patriots Shooting Team is part of the mission at the Big Voice and is comprised of local shooters and supported through the American Freedom Fund, a non-profit founded by Don Bramer and Colville native Gabe Stecker both currently serving in the US Navy in Washington D.C. The non-profit umbrella allows the Big Voice and local vets to receive tax deductible donations. The American Freedom Fund is served by an all-volunteer, all-veteran board, and all money raised goes directly to the programs for veterans that include the Patriots Shooting Team, Softball Teams on the east coast and academic internships for veterans. For more information, please visit www.americanfreedomfund.org, or contact [email protected].
Thank you so much for your support, without this community, the Big Voice would be unable to accomplish the mission of bringing our vets together and giving them everything they need to flourish.